Elementary mechanisms
Damage mechanism during cavitation erosion
Plasticity in metallic glasses
High temperature deformation
The work performed on high temperature deformation of metals (in particular in superplastic conditions) and composites is mainly experimental. Various kind of metals (aluminium alloys, magnesium alloys, steels, metallic glasses, composites, etc.) are investigated. Research focuses in the main deformation mechanisms, in the study of damage nucleation and growth as well as in the thermal stability of the materials.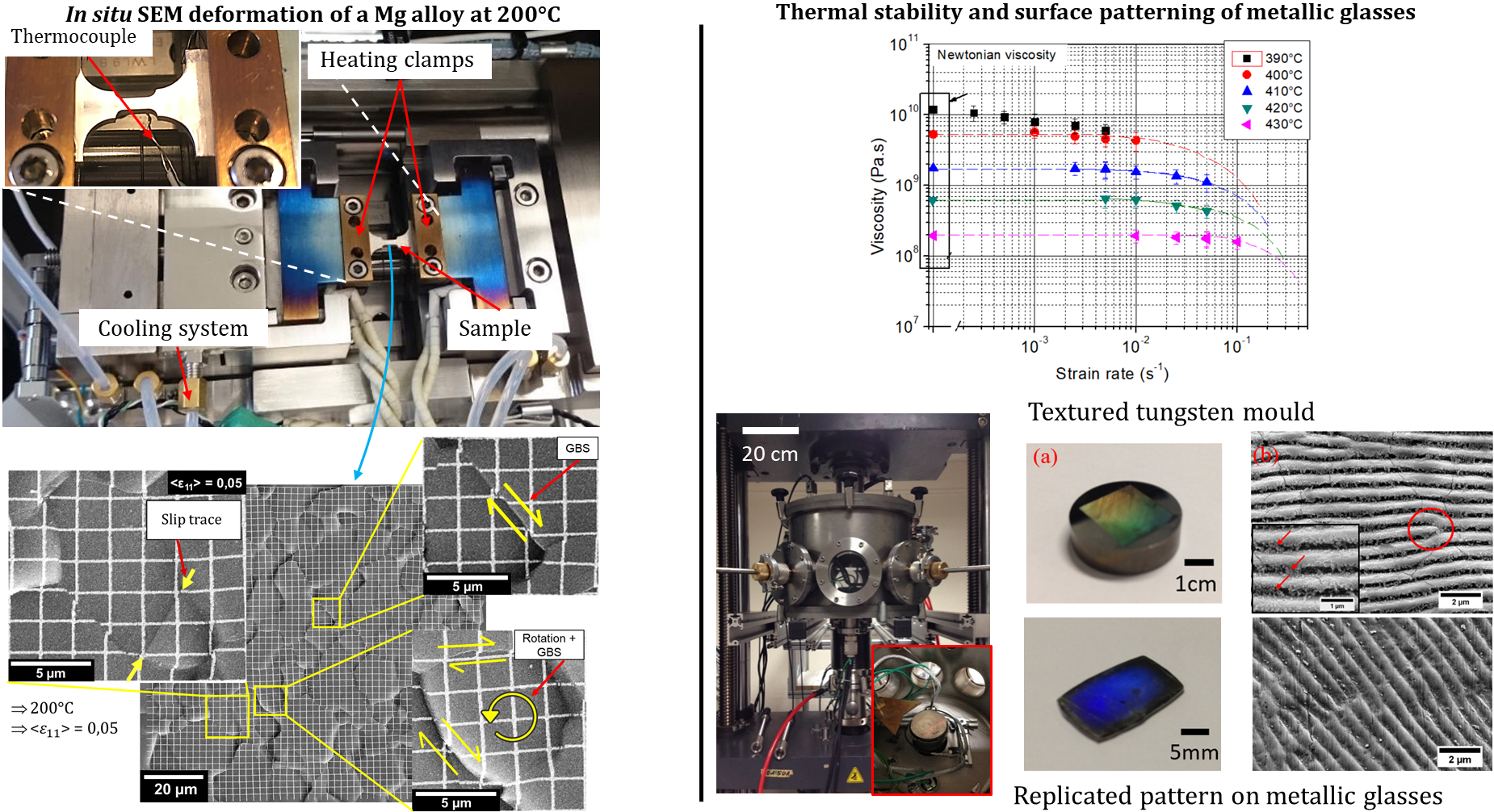 Left
: A methodology to perform in situ high temperature tensile tests of Mg-alloys within a SEM with a high degree of mechanical and temperature control has been developed. The fact that Mg might vaporize under vacuum requires technical challenges to be overcome if one aims at conducting tests without damaging the microscope. Such a methodology allows to shed light on the link between the development of local strain heterogeneities and the occurrence of fundamental deformation mechanisms (
Thibault Dessolier thesis
).
Right
: While metallic glasses are poorly ductile at room temperature, their deformation with increasing temperature becomes more and more homogeneous. As for oxyde glasses, above their glass transition temperature (
Tg
), they can undergo very large strain without detrimental effect on their amorphous structure. We use this property to functionnalize metallic glasses surfaces. Compression tests with strain-rate jumps at different temperatures around
Tg
allows the Newtonian viscosity of the desired composition to be determined (see top Figure). Subsequently, compression experiments under vacuum at high temperature can be performed in the adapted temperature-stress-strain rate condition to replicate fine patterns at the surface of metallic glass (
Paul Hervier thesis
). Such functionnalization can provide enhanced surface properties in many domains (wear resistance, wettability, optical response, corrosion-resistance, biocompatibility, etc.)
Enhanced mechanical properties through nano-particles reinforcements
In situ visualization of morphological changes during deformation of materials
Date of update November 21, 2019